Saturday Showcase: Adornment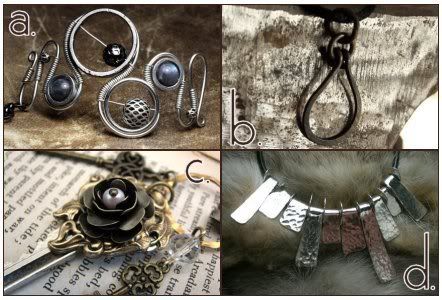 a.  Tinned Copper Cyberpunk Bracelet, by Catherinette Rings:  with labradorite and metal beads.
b.  Drop Forged and Oxidized Pendant, by Wabibrook Studios:  That moment of suspense waiting for a drop of water to fall.  Copper wire is heated, hand-formed, hammered, textured and oxidized.
c.  Royal Keys Necklace, by Poetic Designs:  This stunning necklace features a ring of Medieval style ornate brass keys adorned with regal lion and crystal round.
d.  Sun from the Heart, Sterling Silver Necklace, by SkinzNhydez:  10 Sterling silver rays hang from this leather cord and connected in the back by a handmade silver clasp. Separating the sun rays are circular silver pieces.