A Welcome to Spring!
With many appologies to any readers on dial-up…(sorry mom and dad), here is a giant showcase of spring-themed goodies!  This winter has been soooo long and grey…it's time to celebrate…scroll on down!!
a.  20 Floral Sewing Pins, by Guarana:  I've been doing them as gifts for the buyers of my custom clothing, and they are a big success, so you probably would like them as I do!
b.  Bling for Spring, by Genuine Article:  This adorable little ladybug takes a well deserved rest on delicate pink and white flowers.
c.  Spring Green Tree Tee, by Potato Patch:  A great way to start off with Spring or celebrate Earth Day by treating your little one to an eco-conscious shirt.
d.  Organic Rabbit Rattle, by Dress Me Up:  As seen in Mothering Magazine: Best Natural Toys for 2008!
e.  Wasabi Goat Milk Soap, by Carvel Country Soaps:  Need a refreshing smelling soap with a kick? This bar of wasabi soap definitely has it!
f.  Spring Light Magnet, by Budan Art:  Abstract Landscape – Spring Light – Chunky ACEO Magnet by Mandy Budan
g.  Creamy Pearl Birdsnest Pendant, by G.  Cuff:  This beautiful nest pendant with creamy pearls, was created using steel wire that I sanded, filed, and tumbled polished to a lovely shine.
h.  Lime Hoop Resin Earrings, by Yuki Jewelery:  These beads are all beads that i found while i was travelling trought Indonesia ,going around small villages to find unique components.
i.  Butterfly Sterling Sliver Pendant, by Wabi Brook Studio:  Wear this little butterfly to remind you of warm, sunny days and colourful flowers all year long.
j.  Lovely Ladybug Earrings, by Jewelled Trellis:  The ladybugs are glass with vintage glass leaves and lucite flowers.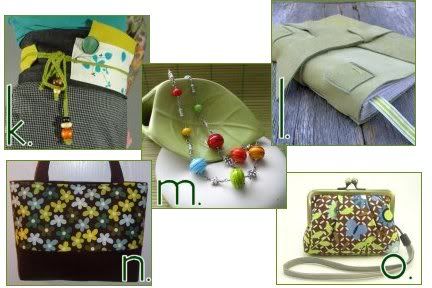 k.  Obi Wrap Belt, by Peeko Apparel:  Obi belt made from "RECLAIMED" materials, worn with a skirt, but is super striking to give a simple one-toned dress a boost of color and design.
l.  Lemon Lime Suede Sketchbook, by My Handbound Books:  This sketchbook/journal is 8½" x 6¾" (or 21.5cm X 17cm) and has 256 pages of creamy Strathmore drawing paper.
m.  Colourful Hollow Lampwork Bubbles, by Verre Designs:  Beautiful rounds ! Handmade hollow lampwork beads in joyful colors combined with silver bali components.
n.  The Selena Tote, by This Gal Is Sew Crazy:   I'm getting ready for the spring/summer markets I will be attending so you will see alot of new items coming!
o.  Sunflowers and Chocolate Camera Case, by Davie and Chiyo:   Very cute camera case. Sunflowers and butterflies on a chocolate brown back drop for the outer material, complemented with blue and white polka dot lining.
p.  Organza Hair Pins, by Seg Parker:  organza flower hairpin wire-wrapped onto extra large bobby, will never risk the chance of having it fall out, ultra solid, can be worn a number of ways.
q.  Dragonfly on Teal Glass Pendant, by Squareware:  This little dragonfly was handcut and fused underneath a layer of clear glass.
r.  Lucy's Leaf Hairpin, by  Sing Chickadee:  Adorn your hair with this feminine and funky hair pin.
s.  Upcycled Pillowcase Brooch, by Loscann:  A one-of-a-kind item, this brooch is made using remnants of a pillowcase used for my purses and wristlets.
t.  Lime Green Copper Necklace, by FiveForty:  Delightfully, earthy and organic! Light and flowy!
u.  Tangerine Flowers, by String Me Along:    Tangerine coloured flowers are the perfect spring and summer hair accessory. They add just a touch of colourful fun.
v.  Emerald Elegance Lightweight Scarf, by LA Originals:  These little bursts of color were inspired by my Harlequin scarves. They embody all the fun and freedom, but are quicker to create.
w.  Serenity Necklace, by Penny Shop Girl:  This necklace has a timeless, natural appeal.
x.  Play Date Ribbon Wand, by Ribbon Wands:  A wand base of bright orange with a subtle pale orange stripe.
y.  Vines in the Forest Necklace, by Chicki's Etsy Shop:  Beautiful necklace created using my own polymer clay beads.
z.  Personalized Turtle Backpack, by Blueberry Junkie:  This is the perfect starter backpack for your little one to bring along to play dates, grandma's or that favourite class.