Artist's Choice Showcase: Get Ready for Mother's Day!!
Winter Hips Necklace by Pomo Mama Design:  Opera length asymmetric necklace comprising orange aventurine, blackstone and glass amid silvertone chain and lead-free pewter beads.
Patchwork Cup by Branch Designs:  a super duper large tea cup / soup bowl / beer stein-cup? …its BIG!!  Thrown with brown stoneware and glazed in my fave…a glaze that ranges fom tan to rust.
Water Garden Lampwork Bracelet, by VerreDesign:  Amazing and unique. The handmade lampwork beads are little pieces of Art. Blue base, then glitter fritz, then clear encasing for more depth and a garden design finale of blooming rose, white lily and silver ornement on one side.
Lavender and Shea Butter Soap, by Mooka Soap:  Handmade soap made with French lavender essential oil, shea butter, and lavender-infused olive oil.
Slim Cosmetics Bag in Orange Birdseed, by Paisley Baby:  Our new slim cosmetic bags are lined with a waterproof fabric for easy cleaning and are wide enough to hold most toothbrushes and makeup brushes.
Spring Fling…A Bud Vase, by Jewelz Creatives:  This particular jar can be used as a bud vase, pencil/pen holder, vessel, or just as a cute little decoration. It stands 3 6/8 inches tall and 2 inches across the base.
Carmel Swirls Lampwork and Glass Necklace and Earrings, by Brilliant Beads:  These lampwork beads that I made look good enough to eat…but please don't!! In my professional life I'm a dentist and I don't want to be responsible for you breaking any teeth.
Goat's Milk Gardener's Soap, by Carvel Country Soaps:  The perfect gift for yourself or the gardener in your life. Made with a rich, creamy goat milk soap base. Goat milk soap is so wonderfully moisturizing. If you haven't tried goat milk soap before, be prepared to fall in love!
Sweetness Necklace by Luli Designs:  Lily of the Valley signifies many things including purity of heart, sweetness and happiness. This necklace would be the perfect way to bring these sentiments to your wedding or any other special occasion.
Damask in Black Zipper Wristlet by LM Creations:  This fabulous wristlet is the way to go about town in style – whether it be going out with the girls or shopping. It is a convenient way to carry your essentials without having to lug around a big bag.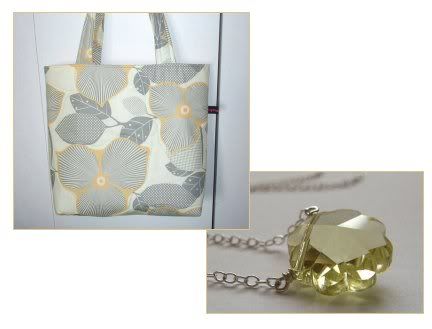 Medium Totebag "Midwest Modern" Fabric, by Zigzag Stitches:  This is a medium-sized tote bag, made from Amy Butler fabrics from the Midwest Modern collection. The outer grey and yellow fabric is quilted to a layer of fleece batting,
Fresh Daisy Necklace, by Zhivana Designs:  A harbinger of warmer weather to come, this necklace features a rare vintage Swarovski crystal daisy as its focal point. The intricacy of the daisy's detail is balanced by the simplicity of the necklace's design.